Here are our five key messages to consider in supporting children's speech, language and communication.  The information and resources below will help you to put these messages into practice and help your child's language grow!
5 Key Messages:
1. 'Let's get talking'
Try to use single words when your child is starting out talking
Keep language simple and model words clearly to your child
Try to reduce the number of questions you ask your child and model the language to them instead. It's helpful to 'say what you see' to your child to help them learn what things are
Encourage a wide range of symbolic noises when talking with your child i.e. lots of animal noises, transport noises etc. This helps them to learn the sounds they need for talking
Offer your child choices to help them to listen to what you are saying i.e. banana or apple? Spotty socks or blue socks?
Keep language visual and in the here and now i.e. holding up a nappy at nappy change, showing them a plate for dinner time to help them to understand and listen to what you are saying
If talking in more than one language to your child, it is natural to switch between the two at home, but keep the vocabulary consistent. It's the best age to learn multiple languages when they are young so don't stop!
Try to reduce the use of Dummies from 1 year of age- it really helps their talking!
Videos:
Tiny Happy People – Bilingual Development
Tiny Happy People – Sound Effects Story
Tiny Happy People – Making choices at snack time
Tiny Happy People – What's in the Bag
Leaflets:
Baby Talk and Dummies – Good or Bad
2. 'Let's get listening'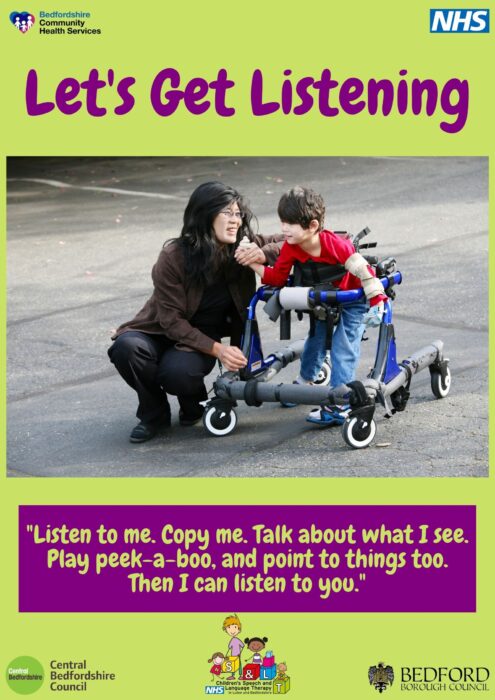 Children's attention and listening is the most important skill they need for talking
Help your child to learn to listen and tune into language by playing some simple listening games i.e. ready, steady go, listening for instrument sounds, listening walks
Children take time to think about what they have heard; give your child time to respond to what you have said
Make sure there are times without background noise i.e. the TV or radio as this can affect your child's ability to listen and pick up language
Be expressive and animated in your face and voice – this helps to get your child's attention.
Videos:
Tiny Happy People – Ready Steady Go
3. 'Let's get playing'
Children learn through play and it's important to give them opportunities to access a range of different types of play  inside and outside to help them learn lots of skills
To help children learn language; join in with their child's play. Follow your child's lead and play alongside them with things that interest them
Children may play in a way that we don't expect, it is good to copy your child's play and then show them something new too
It can help to introduce special time with your child- a distraction free time to play with no TV or phone or sibling to distract you both
If possible try getting out to access play opportunities with other children and families i.e. library, stay and play sessions in your local children's centres or to the park.
Videos:
Tiny Happy People – 10 fun park activities
4. 'Let's get rhyming'
Sharing books from a young age is a really important way to help your child to learn new words
Even if your child won't let you read the story talk about the pictures and tell them what things are
Singing songs and rhymes is really important for children's speech and language development and helps to lay the foundations for later literacy skills
Children learn through repetition so the same stories and songs sung or read over again are helping your child to learn.
Try making free instruments out of plastic bottles with rice or pasta inside.
Video:
Tiny Happy People – nursery rhymes and songs collection
Leaflet:
Sharing Songs and Rhymes
5. 'Let's get together'
Communication takes 2 people so it's important to interact together and help your child to learn how to communicate with others
Limiting screen time can be really helpful to encourage children to learn how to communicate with others and develop their play skills. Remember the use of screens i.e. tablets or TV is only 1 way, you don't have to communicate back to it!
Spending time together helps your child to bond with you. Children learn at their best when they are happy and secure
Talk about what you are doing and what you can see during everyday activities
Games that involve taking turns are a great way to encourage children to interact and communicate with you i.e. rolling the ball, blowing bubbles, building a tower together
Be face to face with your child so that they can see you talking to them.
Video: